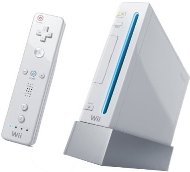 I left fixing the Nintendo Wii for ages. After speaking with Nintendo UK, they told me to send the console off to them, and basically I couldn't be bothered. Afterall, I could play games perfectly fine.
However, after a little bit of pressure seeing fellow mates using their Wii on the internet, I thought I would send it off to repair. Before I did, however, I had a quick check on the web to make sure that the address I recieved months ago was right.. I then stumbled across a post about others having the same issues, and it said to simply try and reformat the Wii, and that for almost all people that would fix the issue. So I backed up the games (that everyone else seems to play ;-) ) onto an SD memory card, and reformatted. I set up the WiFi access again, and low and behold it requested the update again. Performed the update and now its all happy!!
How annoying is that.. All this time I thought it was completely buggered, and it just wanted a fresh start in life. Well, I'm just happy I don't have to send the thing off.. I think thats a rubbish Nintendo UK policy. A fault with their system, they should send a post bag, or arrange a collection at least. Seems that Ninento US have a completely different policy of sending you a new Wii, and a bag to send the old one back. Now that doesn't sound very consistent customer service.