I just realised the other day that my phone contract was up for renewal last month, and baring in mind that I have changed my phone recently to a Nokia E71, have been pondering what to do with the renewal.
So I rang O2 customer services to see what sort of deals I could get and what sort of phone they would recommend based on my typical use. As normal, the first recommendation was the Blackberry, but I've never liked them. I forced myself to use the curve for a couple of months to see if was any good, and I just couldn't get used to the restrictive way it provides messaging. The thing I find with agents and phone sales is that they have it drilled into their mind that Blackberry is the only way to get instant email and is the most suited device for that, but that simply isn't the case. I'm currently using the E71, and its a better phone all round. It's more sleek, better quality and more standardised than the Blackberry.
I asked about a few, like the iPhone, just to get the chance to try them out, and perhaps experiment with some developments on them. The contract arrangements mean that you can not use any other phone, and they are 24 month only contracts too. Basically if you don't like the iPhone, you are stuck for 2 years having to use the damn thing. Not appealing when there is no way to really "try" it out.
After going over my options with the sales rep, I came to the conclusion that there simply isn't a phone better suited than the E71 available yet. So I'm now going to have to wait, postponing my upgrade so that I can get a heavy discount on something better that I would like to use, and I decided that I wasn't going to go for, say, a Sony X1 and making a hefty profit on it on eBay.
Two phones I'm eagerly awaiting for is the Palm Pre which I'm expecting to be a fantastic competitor to the iPhone, and an upgrade of my currently E71 which would be the Nokia N97.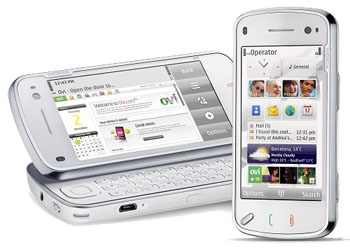 The N97 seems like a completely new breed of phone from Nokia as the interface and OS seem considerably different, but this could purely be just a facade. It's less wide than the iPhone, but very slightly longer and the sliding keyboard will mean it will feel a little chunky. One thing I like about the E71 is that its wafer thin, and tiny in it's dimensions. Slipping unnoticed into any shirt pocket. The N97 has my attention because of the massive features such as touch screen and accelerometers, huge capabilities and capacity and a new way to do developments so that it is easier to write applications for it. I just hope the size won't be a burden.
If I was forced to choose from the information available now, I'd still rate the Palm Pre as the most exciting, and eagerly awaited device in the last decade for me. Just putting the 21st century features aside, the fact that writing any standard application is nothing more than HTML, CSS and Javascript is perfect for the new wave of Internet based cloud technologies. I really believe iPhone and other providers should be deeply worried about this device. Let's just hope they don't spend too long getting it out to market!