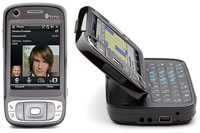 With a little annoyance, I was only able to get the new Tytn II today instead of yesterday after missing the delivery and trying to change certain CityLink vans.
However, now I have it, and have been trying to get everything up and running on it over the course of the day.. between work and everything else that is going on.
Well this is just a preliminary review, as the two key failures of the original Tytn I just HAD to test out first and report on them.
Firstly the Skype compatibility. It's working!! I do still suffer the annoyance that calls are made through the speaker and not the phone ear piece. That's really, really annoying and I wish Skype would add an option for this. Strangely I, and I'm sure many others, would like calling people on Skype to be as private as normal phone calls.
Secondly, and more importantly to me, the Microsoft Voice Commander over Bluetooth. That was a miserable failure of the HTC Tytn, and I've just had a chance of trying on the Tytn II and it looks like that is all thumbs up too!!!
So all in all so far, I am a VERY VERY happy chappy. This has to be the most perfect PDA phone ever made by a long, long way.