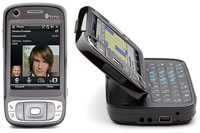 I've ordered a new phone. Simply because its not just a new phone, its something that really just shames anything that as ever existed before.
Windows Mobile 6 Professional
400MHz Processor (different from Trion/Tytn so should work with Skype (fingers crossed)
256MB or ROM Memory and 128MB RAM Memory (that's a lot for any phone)
Full sliding Qwerty keyboard with screen tilt (should be dreamy to use)
3G (including super speed) quadband, WiFi, Bluetooth and USB 2.0
3Megapixel camera which actually can give reasonable photos for once (from samples)
GPS!!! (Yea, on top of everything else, this thing has a GPS system built in!!)
It's a phone too ;-)
This phone quite simply is the swiss army knike of mobile technology. I receive it next Monday and will be selling my current Trion and Mini-S to fund it. Very much looking forward to trying it out!
It's an exceedingly popular new phone. I ordered one from one online store that had 20 in stock to only face an email in the morning to say that they had run out and I was on a back log. So I went elsewhere who told me that they were selling about 50 of the devices every 2-3 days (that's just one store!) Thats simple astonishing considering its a very high-end phone at £470 a time.
I'm hoping the new Bluetooth and CPU make will solve my bigger Trion/Tytn gripes. MS Voice Command over bluetooth, and using Skype for making calls. *fingers crossed*. I have to say though, since the Trion and because of this, I think i'm going to be hard pressed to use anything but HTC devices. Even the much talked about Apple iPhone has nothing in comparison to something like this.
More info: http://tytnseries.htc.com/htctytn2.html