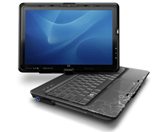 I've been having lots of fun since last night installing and playing with Windows 7 using my HP Touchsmart TX2 tablet PC. Considering the general bad feedback Vista got, Windows 7 is like a complete breathe of fresh air.
Installing it on the tablet PC was a breeze, and instead of the gazillion applications and drivers that I required to install for Vista, Windows 7 only required the graphics driver (which would come on windows update but I chose to install the one from the ATI site), the new n-trig Windows 7 RC drivers from here, and the finger print drivers which appeared on windows update after trying to find and install the ones from the Authentic site.
What this now means is that I have all the glory of multi-touch tablet PC fully working! I can use up to 5 fingers at a time based on the n-trig RC drivers, and I've not found a single fault yet.
The new start bar for Windows 7 is far nicer than I thought it would be, especially to use with fingers, and the onscreen keyboard seems much more clear and accurate. Even the finger print software was built into Windows 7.. There simply isn't anything extra you need, making the whole system more stable and far less cluttered.
I've installed Office 2007 SP2 back on the laptop, and Microsoft OneNote is even more of a godsend that it was before. With multi-touch I can scroll pages down without accidentally scribbling on the page, and pan in and out with the common pinching gesture.
Finally, the PERFECT tablet PC. If only sold state drives were cheaper (all in time)! That would be the icing on the enormous cake!