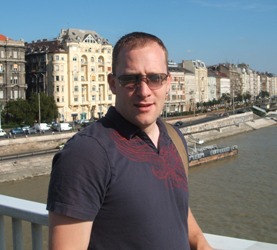 I always feel its a bit of a bore when writing about yourself for your website. It's not like many people are going to actually read it anyway, and those that do will probably wish they hadn't.
So at your own risk, please read on. I'd like to point out that I will not be able to return any of the time you would have lost reading all this rubbish, and if you actually find it at all interesting, then I think you need to get out a bit more.
So... basics first. I'm Adam Saunders, a 30 year old English guy currently residing in Bristol. I studied an honours degree in Software Engineering at the University of the West of England and am currently the Founder and CEO of an internet software company called Neetrix... quite simply, I have been a complete geek pretty much throughout my entire life.
I started programming my very first computer when I was 7 or 8 years old, a ye old Commadore VIC-20. I used to learn code from ripping those old cassette games trying to work out how to cheat my way through levels etc. It seems in my understanding of many other computer geeks histories, this is actually quite a typical age and introduction to the world of programming for many. My facination into the machine didn't really stop, however in my mid-teens I really spent a lot more time looking into the more serious aspects of developing applications getting to a point of selling my first software application to UCI cinemas when I was about 16. Going on to take the degree was an obvious step, and I went on to work for Intel Corporation becoming a full blown web software developer (almongst other areas). I really didn't get on working in a very large firm, and bailed out to work in the finance industry for a short number of years. The end of my stint in the finance world came up when I wrote fund supermarket software which was later purchased along with the company I was working for by Egg, which was a sign to leave being that I just didn't feel I would enjoy working at Egg, mainly because of its size.
Although I was doing all of that full time, it didn't stop me from running a webhosting company along with Mark Hall, a guy I studied at university with. We ran the hosting company for a number years, before moving on into what we both did even better.. software development. The hosting company was getting extremely successful and we got more and more into designing and redeveloping our automation system at the time. But it was getting harder and harder to work part time on the business, and it got to a point where the automation software we were running at the time wasn't enough for the fast growth of the company. Since there was nothing else that even came close to the size and type of automation we needed, we decided to hang up our employee hats and started a new company called WebHost Automation which did just that. We devised and produced the first ever class 3 control system called Helm, which became the most popular Windows Server based web hosting control system in the world, which, I must say, we were most proud of. Its success and impact in the industry warranted the attention of Microsoft who financially assisted the project when working on the 4th edition of Helm. Later, the attention was drawn to Parallels (formally SWSoft), the largest hosting automation company who specialised on Linux and virtualisation. They purchased WebHost Automation and Helm in December 2007 in order to push their Windows market share considerably.
So this left me with a number of options, and I had to choose between working for Parallels, taking a long break travelling (which i've not had much chance to do before), working for someone else, or starting another business. I did work for Parallels for around another 6 or 7 months, which gave me enough time to contemplate what I'd do next, which was to either travel or start another business, and I decided with a recession on its way to swim against the tide and start a new business. I had a number of ideas, but chose the most dynamic, scalable and idealistic option which was to start a new company to go head first at the up coming market of online software for businesses. The company, called Neetrix, offers the very best in a complete business management software. The new system is both easy to use, without the patronising nature of some "easy to use" systems out there, and ensuring it gives businesses what they would need to succeed, nothing more, nothing less. It's a fully hosted system too, which means that people can run their business from anywhere, whether on the move or stuck in the office, and they have no software to install or maintain, with upgrades being applied almost every day.
facebook -