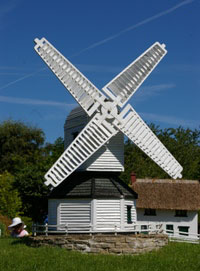 Now, this is a place of shear childhood magic, and I've not been here since I was about 5 years old! So 24 years later (god I feel old!) I took my god son and family to see the wonders that is Bekonscot Model Village.
It really is quite an unusual place. Takes you right back to the 30's, and has some incredible detail, but what was most fantastic to see that is still looks so new!
A fantastic day ou, the kids (Thomas and Hannah) seemed to love it, and the good weather was a plus. I'll put more photos up on my gallery in due course.
The really noticable areas were the churches complete with singing choirs and church bells, the house that is on fire with real smoke and firemen putting it out, and the airport with classic planes with working propellers etc... oh... and, of course, it just wouldn't be right not to mention the incredible trains that are buzzing around the entire "village". A complete working train network of steam engines. Just amazing to see that level of detail.
It's great to see it still running after all this time. These types of places are getting fewer and far between.